Why Do Electric Motors Fail?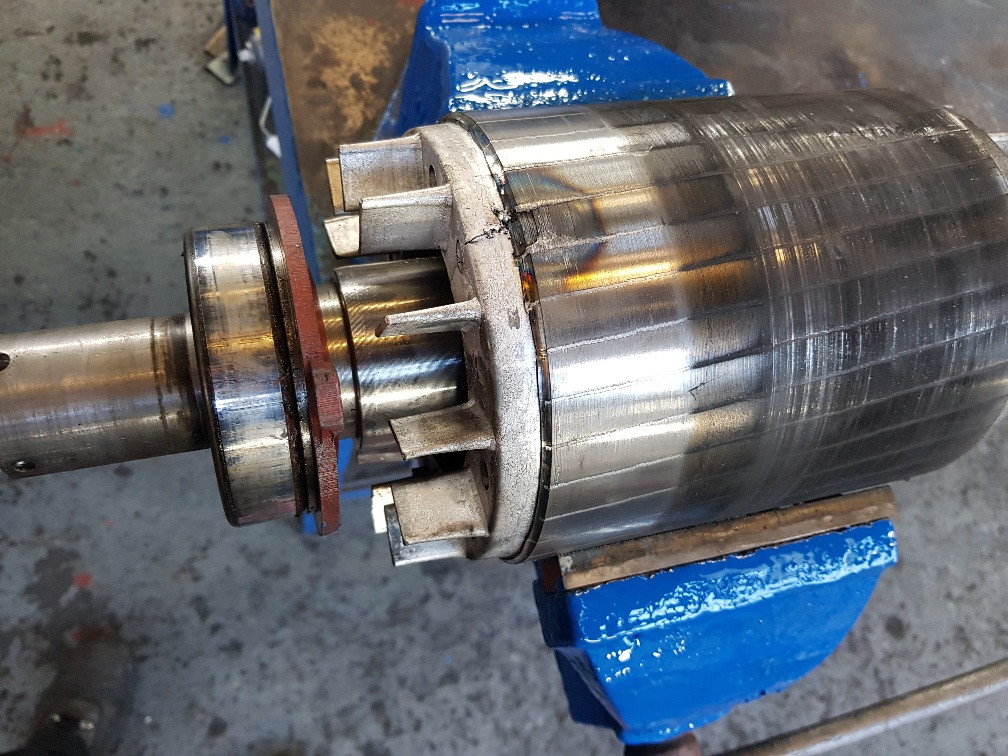 Electric Motor Failure Case Study
Why do electric motors fail? This week we are looking at a major electric motor failure that occurred recently with a customer's machine in a steel production plant.
The motor had been flagged as beginning to sound noisy by the maintenance team. However, due to production pressures the machine could not be released for repair work to be carried out until the end of the week. When we finally received the motor in our workshop it was still working and we were informed that it needed replacement bearings fitting with possibly some minor mechanical repairs to the bearing housings.
Bearing Journal Damage
Upon dismantling the motor we found a much more serious situation! The drive end bearing seating was very badly worn as can be seen in the photographs below. This was most probably down to over-tensioning of the drive belts and if this was the only problem we could quite easily have manufactured a replacement shaft and fitted it into the rotor pack very quickly.
Rotor Pack Damage
However, as the bearing journal deteriorated the wear finally became so excessive that the rotor was pulled so far over that it started to foul the stator lamination pack, what is known as a core rub.
This in turn created metal fragments that began to move around the inside of the motor with one finally causing the motor winding insulation to fail and short to the cast aluminium end ring on the rotor. Along with the mechanical load that the rotor pack was being subjected to, this flash was the last straw causing the rotor end ring to crack.
Why Do Electric Motors Fail?
Stator Winding Insulation Failure
Unfortunately the motor was now scrap and also being a special output 2 speed motor, it was not one that was readily available from any manufacturer. The quickest way out of the situation for the customer was for us to supply a single speed motor from our stock, which with some alterations to his production cycle allowed him to accommodate this while waiting for an exact replacement 2 speed motor to be delivered.
Another option would have been for us to supply a replacement motor and inverter drive package, however in order for him to obtain the necessary output torque for both speed settings we would have had to offer a motor in a larger frame size which would not have fitted inside the machine due to physical space constraints.
Why Do Electric Motors Fail?
So why do electric motors fail? The message from this particular electric motor failure case study is that regular machine maintenance checks are essential to minimise downtime. If this motor had been removed from the machine just a few days earlier it could have been able to be repaired to a high standard and put back into production for many years. However it is a common problem and source of frustration for maintenance engineering staff when they cannot obtain access to critical machines in time to prevent these kind of failures due to production pressures. A problem that has been around for a very long time.
Webb-Elec Ltd is a member of the AEMT (Association of Electrical & Mechanical Trades) an association leading the way in best practice for rotating electrical machine repair. We adhere to their high standards in all our repairs and provide a full emergency 24 hour rebuild service for unforeseen repairs along with scheduled preventative maintenance work. Our services cover repairs along with supply of new machinery including pumps, electric motors, fans, gearmotors, inverters, brakes, clutches & all associated power transmission equipment. We also provide a full on-site engineering service so why not get in touch when you need some support.